Antigua All Inclusive Resorts
Destination Antigua
Found in the West Indies, this unrivaled island provides the out-of-the-ordinary experience on sea and water anyone would love to have.
Scroll Down
Antigua Resorts & Hotels
Destination Antigua
With a total population of just over 80,000 and a total land mass of about one hundred square miles, Antigua makes up for what it lacks in population and size with awe-inspiring natural features. Found in the West Indies, this unrivaled island provides the out-of-the-ordinary experience on sea and water anyone would love to have. Containing wide ranges of phenomenal beaches, wonderful villages, hospitable people, monumental buildings, and other impressive attractions, Antigua is the haven of all tourists who understand the peculiarity of this wonderful destination.
Since its economy heavily relies on tourism, Antigua welcomes all and sundry with open arms through the provision of amazing sequences of itinerary ideas and adventures that can hardly be matched by any other island on this planet. This quiescent and unsullied island guarantees you the perfect life on the shoreline with its astounding blue water and white sand beaches, protected by spectacular stretches of gulfs.
Get away from the daily hustling and bustling the major cities around the world are known for and make Antigua your destination for unruffled moment that is devoid of stress. Travel around St. John's, All Saints, Liberta and other major settlements to enjoy your fun-filled and exotic Caribbean escape at its zenith.
Bring life into your into your trip by visiting in the last week of July or first week of August when the Antigua Carnival will be the main attraction of the island. Join thousands of dancers, musicians, and other entertainers to wear colorful and amazing costumes, and get your dancing shoes on to shake your body to the ever-lively Calypso music that will take over the atmosphere. Endeavor also to visit the Shirley Height Harbour, English Harbour, and the historical forts spread across different locations in Antigua.
Fruits, soups, vegetables, bread, fish, meats, and other delicious Caribbean foods are available for you to taste and appreciate the culinary delight of Antigua. As you participate in scuba diving, party, golf, sailings, and festivals on this island, watch the Antiguan racer, Griswold's ameiva and other wildlife lurking around this destination. Do not leave the planning of your visit to Antigua to chances, get in touch with J & M Belize Travel for a well-planned itinerary.
Antigua All Inclusive Resorts
The Best of Antigua Resorts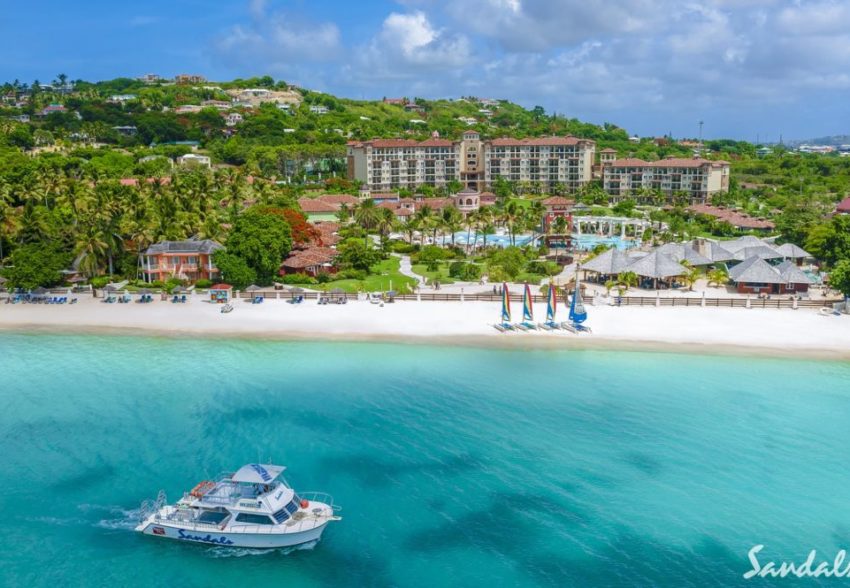 ST. JOHN, ANTIGUA
Sandals Grande Antigua
Voted the "World's Most Romantic Resort" year after year, Sandals Grande Antigua Resort & Spa beckons with two extraordinary Antigua all-inclusive vacations in one on the country's best and most famous beach, Dickenson Bay.
Rates from
$263.00
pp/pn & USD
VIEW HOTEL