THE LODGE AT BIG FALLS
Big Falls Village, Toledo
The Lodge at Big Falls is situated on the banks of the Rio Grande river in Belize's southern Toledo District. Big Falls Lodge is located on a meander of the river with almost a mile of river frontage. There are views towards the Maya Mountains to the north west while the south eastern bank faces the village of Big Falls. However, there are no "big falls" in Big Falls. This is just the name of the village!
At the Lodge there is a full service restaurant and bar and is a licensed tour operator offering a wide range of tours and activities within its packages which include a mix of natural history (birds, butterflies, moths and animals), adventure (kayaking, snorkeling, caving and hiking) and cultural encounters with local people. It is the ideal base in the heart of Toledo for your Belize adventure.
J & M SPECIALS RATE
as low as
$180
per night
*All prices are in US Dollar
*Subject to change based on availability
WHY A BIG FALL LODGE VACATION
THE LODGE AT BIG FALLS
12 Thatched Cabana and Hardwood Cabana

Restaurant:- Lodge meals offer a range of local and international dishes, with vegetarian, vegan, kashrut and children's alternatives

Wi-Fi

Tropical Gardens

River Tubing

Warm Spring

Free Parking

Daily Housekeeping Service
Kayaking

Mountain Biking

Table Tennis

Badminton

Outdoor Pool

Horseshoes

frisbee

Petangques (Bocce ball)

Gift Shop

Designated Smoking Area
ARE YOU READY TO BOOK? OR STILL HAVE QUESTIONS ABOUT WHETHER BIG FALL LODGE IS RIGHT FOR YOU?
or
Rustic Accommodations
At The Lodge at Big Falls
rates starting at
$216.00
[quform_popup id="34" name="The Lodge at Big Falls: Check Availability"]&nbsp &nbsp CHECK AVAILABILITY &nbsp &nbsp [/quform_popup]
THE LODGE AT BIG FALLS
DESIGN FOR FAMILIES, SINGLES, AND COUPLES
RUSTIC ROOMS
AT BIG FALL LODGE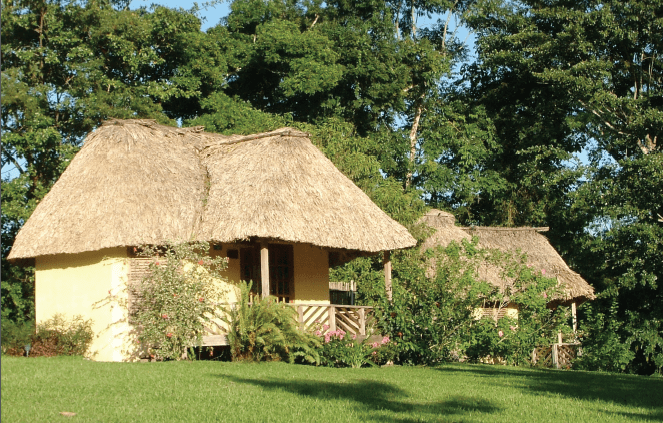 Big Fall Lodge
CABANAS
Six of the rooms are individual cottage style cabanas (sleeping up to four persons) with a full en-suite bathroom and shower providing hot and cold water.  These cabanas are thatched with bay-leaf palm, a traditional Belizean thatching material. Beautifully tiled floors, ceiling fans and fully screened, wood louvered windows offer a cool well-ventilated living area.
AMENITIES
•Saltillo tiles floor and bay leaf palm thatched roof
• Spacious en-suite bathroom with enclosed shower…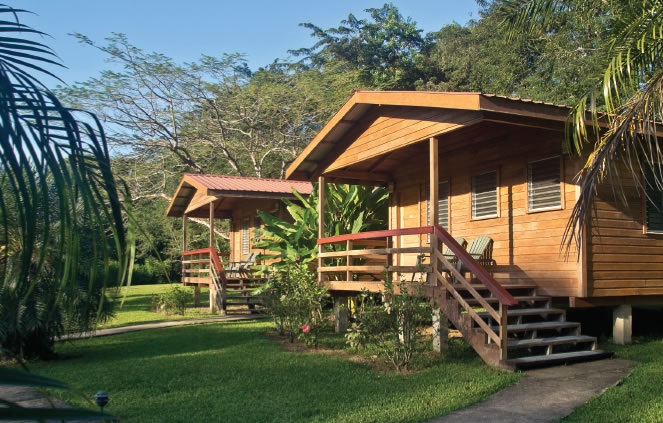 Big Fall Lodge
HARDWOOD CABANAS
Each cabana has a hardwood floor and ceiling made from a mix of secondary tropical hardwoods including nargusta, santa maria and milady. Each has two queen size beds, ceiling fans, air conditioning, en-suite bathroom and shower, kitchenette with refrigerator, microwave and table-top stove with two burners.
AMENITIES
• Kitchenette: refrigerator, microwave, double sink, two burner stove, counter & storage space.
• Air conditioning and two 4-speed ceiling fans
• Spacious en-suite…
Please contact us or inquire below for availability and rates.
INQUIRE ABOUT THIS LODGE
From booking to planning unique experiences and beyond, a Belize expert's knowledge can help guide you in planning your Belize Vacation experience of your dreams.
OR
Please fill out the form and a Belize Specialist will contact you
*By submitting this form it doesn't guarantee a reservation, but will expedite the booking process. A Belize Specialist will contact you.