ELLYSIAN BOUTIQUE HOTEL
Placencia Village, Placencia Peninsula
There is an inspiration and a story behind this jewel of a hotel.
In creating the space, we celebrate the elegance of the female spirit. The newly built hotel reflects the strength and confidence of women and their history to stand courageously, empathetically and lovingly.
Ellysian means peaceful: the striking pure white exteriors combined with the natural beauty of its setting, on a soft sandy beach viewing the Caribbean Sea, gives a sense of peace to all who choose to dwell here.
The art, the décor, the amenities and touch points throughout the intimate hotel have a subtle feminine touch that will nurture you whether you have traveled here for adventure, rejuvenation, romance or a family vacation.
J & M SPECIALS RATE
as low as
$349
per night
*All prices are in US Dollar
*Subject to change based on availability
WHY AN ELLYSIAN HOTEL VACATION
THE ELLYSIAN HOTEL
ARE YOU READY TO BOOK? OR STILL HAVE QUESTIONS ABOUT WHETHER ELLYSIAN IS RIGHT FOR YOU?
or
THE ELLYSIAN HOTEL
Studio and One Bedroom Suites
No Restaurant or bar on site
Swimming Pool
Located within the village close to local restaurants and bars
Conference space
Spa Service
Air Conditioning
Kayak
Paddle Boards
Bicycles
ELLYSIAN HOTEL
DESIGN FOR SINGLES, SMALL GROUPS, COUPLES AND HONEYMOONERS
LUXURIOUS ROOMS & SUITES
AT ELLYSIAN BOUTIQUE HOTEL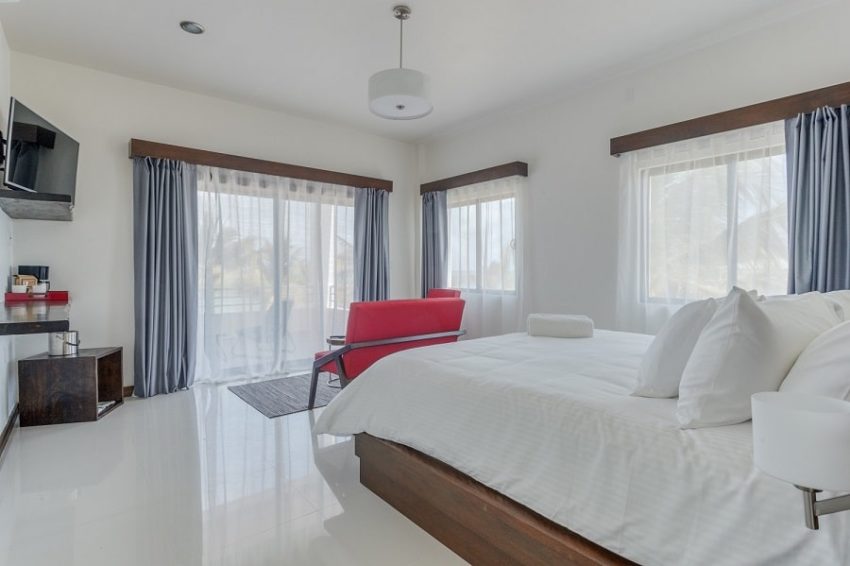 The Ellysian Hotel
BEACHFRONT STUDIO
This open and airy room features an over-sized bedroom, en-suite bathroom, floor to ceiling glass doors, and a well-appointed cabinet with luxury amenities. Its veranda is replete with chairs to enjoy the morning's sunrise. All these studios overlook the tranquil Caribbean Sea- let it lure you.
ROOM AMENITIES: King size bed, Air conditioning, Television with cable, Wi-Fi, Private bathroom, Hot and cold water, Closet, Coffee Maker, Exclusive bed linen & towels, Private Verandah
MAX OCCUPANY: 2
ROOM VIEW: Sea, Beach, Pool View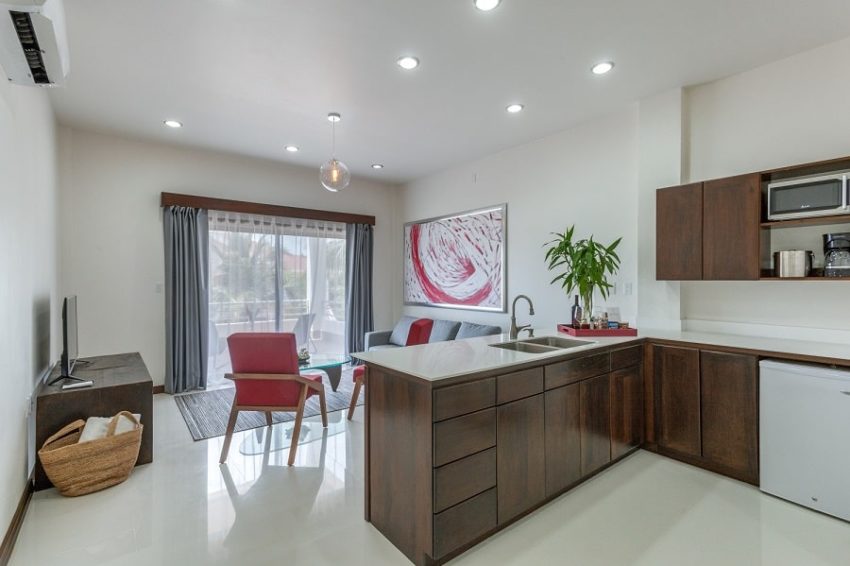 The Ellysian Hotel
ONE BEDROOM BEACH SUITE
Our spacious one-bedroom suite is the perfect choice for families or couples who wish to stay here longer. The suite offers a living room area with pull-out sofa, private bedroom and bath with a view of the mountains and Placencia Village
ROOM AMENITIES: King size bed or 2 Queen Bed, Spacious bathroom with single wash hand basin, Walk in shower, Kitchenette, Mini refrigerator, Coffee maker, Microwave, Living room area, Pull out sofa, Air conditioning, Wi-Fi, Television with cable, Private bedroom, Safety deposit box, Private bathroom, Large verandah with a view, Exclusive bed linen & towels, Hair dryer
MAX OCCUPANY: 3
ROOM VIEW: Garden, Village or Mountain View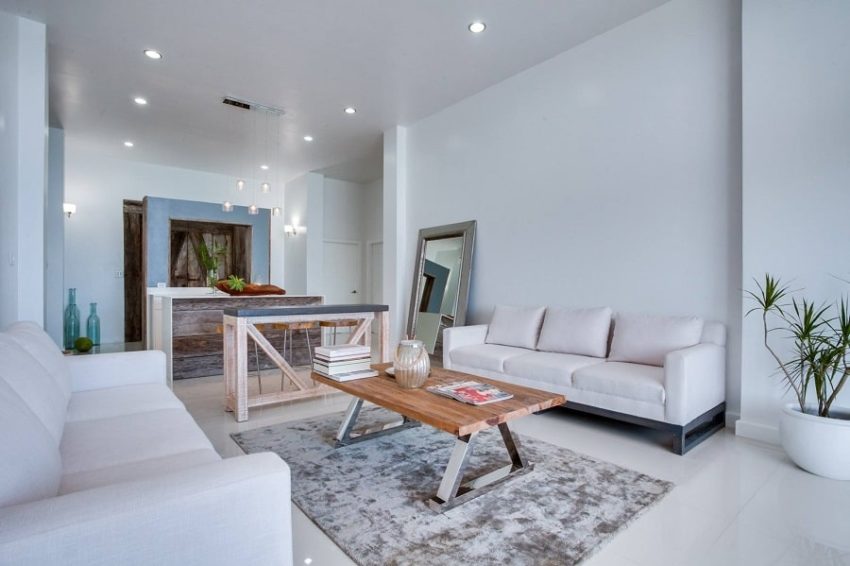 The Ellysian Hotel
PENTHOUSE- EXCLUSIVE
Located on the third floor, our Exclusive Penthouse offers the perfect luxury escape for the esteemed traveler. This modern and chic Penthouse has an abundance of open-air and handpicked furnishings by the First Lady of Belize- Kim Simplis Borrow.
It features a master bedroom and an ensuite bathroom that will enliven your senses, as its comfort, views, and purity is habit-forming. The second and third bedrooms offer a bespoke luxury feel with its elegance and charm. Its living room and mini kitchenette gives a feeling of intimate sophistication that flows out unto a well-appointed over-sized veranda to relax and enjoy the breathtaking views of the mesmerizing Caribbean Sea that envelopes you.
ROOM AMENITIES: 1 rooms- King size bed with ensuite bathroom, 2 rooms – King size bed each with shared bathroom, Cable flat screen television, A/C, Living space, Hair dryer, Mini-Kitchenette, Yoga mats, WiFi, Large veranda with sitting area
MAX OCCUPANY: 6
ROOM VIEW: Sea, Beach, Pool View
Please contact us or inquire below for availability and rates.
INQUIRE ABOUT THIS HOTEL
From booking to planning unique experiences and beyond, a Belize expert's knowledge can help guide you in planning your Belize Vacation experience of your dreams.
OR
Please fill out the form and a Belize Specialist will contact you
*By submitting this form it doesn't guarantee a reservation, but will expedite the booking process. A Belize Specialist will contact you.