HIDDEN VALLEY INN
Mountain Pine Ridge, Cayo
Hidden Valley Inn, a Luxury Life Style hotel with only 12 rooms, is the only resort within a 7200 acre private reserve bordering the Mountain Pine Ridge Forest Reserve, Cayo District in Belize.
This intimate eco resort offers quality accommodation, fine gourmet food; locally grown coffee; attentive service and guided tours to discover the unique birds, flora and wildlife of the area.
Guests enjoy exclusive access to over 90 miles of hiking and mountain biking trails as well as many secluded crystal pools and Waterfalls set in a tropical rainforest. For those seeking romance, one of the waterfalls may be reserved exclusively for the day.
Situated in the Maya Mountains, this cozy forest lodge also serves as a convenient base for visiting the various scenic and historical attractions of the area, which include: Caracol, Xunantunich, and Cahal Pech Maya Ruins. Horseback riding through the forest with a local Maya guides is a unique experience; mystical caves can be explored on foot, canoe or tube.
J & M SPECIAL RATE
as low as
$260
per night
*All prices are in US Dollar
*Subject to change based on availability
WHY A HIDDEN VALLEY INN VACATION
HIDDEN VALLEY INN
ARE YOU READY TO BOOK? OR STILL HAVE QUESTIONS ABOUT WHETHER HIDDEN VALLEY IS RIGHT FOR YOU?
or
HIDDEN VALLEY INN
Estate rooms and suites
Restaurant
Nikte' Ha Spa
Mantra Room- Screened porch with hammocks and lounge
Pool & Hot Tub
Conference Room
The Library Lounge
Two sofa lounge
HIDDEN VALLEY INN
DESIGN FOR FAMILIES, SINGLES, GROUPS, COUPLES AND HONEYMOONERS
LUXURIOUS ROOMS & SUITES
AT HIDDEN VALLEY INN
Hidden Valley Inn
ESTATE ROOMS
Five rooms have one queen size bed and five rooms have twin beds, private baths with tub/shower combination, vaulted ceilings with fan, fireplace, sitting area. The decor of the Hidden Valley Inn cottages includes handsome mahogany and leather furnishings, terracotta tile flooring and local accents. Soft furnishings and amenities include luxury bedding, plush bath towels and complimentary in-room terry robes. The Estate Rooms consist of five king-bedded rooms and five queen-bedded rooms. King rooms can be divided to accommodate twin beds
ROOM AMENITIES: In-room fireplaces, Coffee valet, Ceiling fans, Full bath/shower unit, In-room safe, Daily turn down service,  In-room wifi, Telephones in room, Luxury linens, Plush Terry bathrobes, Ten rooms – 448 ft2/136.56 m2
MAX OCCUPANCY: 2
ROOM VIEW: Jungle View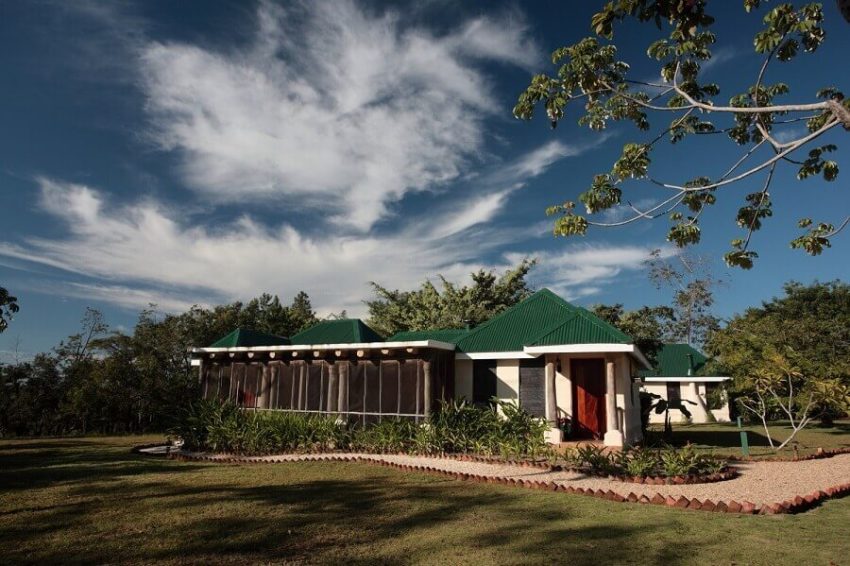 Hidden Valley Inn
ESTATE SUITE
One room with a queen size bed, one room with two double beds. Private outside waterfall themed shower, claw foot bath, fireplace, screened in patio with hammocks and comfortable furniture. Patio door can be pushed back so that the area can be shared between the two deluxe suites.
ROOM AMENITIES: Two rooms – 900 ft2/83 m2, In-room fireplaces, Screened patio, Hammocks, Double Vanity Unit, Claw foot bath tub, Outdoor waterfall rock shower
MAX OCCUPANCY: 2
ROOM VIEW: Jungle View
Please contact us or inquire below for availability and rates.
INQUIRE ABOUT THIS RESORT
From booking to planning unique experiences and beyond, a Belize expert's knowledge can help guide you in planning your Belize Vacation experience of your dreams.
OR
Please fill out the form and a Belize Specialist will contact you
*By submitting this form it doesn't guarantee a reservation, but will expedite the booking process. A Belize Specialist will contact you.