SANDALS RESORTS
Where all you need is love
Whether you want to lounge away the day in a remote resort or actively pursue all adventures the Caribbean has to offer. Sandals escapes are where you want to go. Each package is an all-inclusive collection of everything one needs on a vacation limited to adults only as a way to make sure the stress from everyday life is forgotten.
For those that want to tour the world's golf courses, the islands of the Bahamas, Jamaica and St. Lucia boast resorts that are just as endearing as the golf courses housed on the islands. As the package is all-inclusive, you don't need to worry about paying any fees.
Be it a large or small wedding party, Sandals offers exactly what you need to celebrate your big day exactly in the style you want to. If it's more about getting the family together, the family reunion packages are the perfect way to entertain, letting everyone decide between scuba diving, the spa or golf.
SANDALS NEWEST DESTINATION
Sandals is expanding to a brand-new destination, the beautiful Dutch-inspired island of Curaçao!
SANDALS RESORTS ISLANDS
Rich in natural beauty, prized for its pristine waters and sought after for its relaxing atmosphere, the Caribbean has been and will forever remain a pure paradise that whisks visitors away to tropical paradises found nowhere else in the world.
THE CARIBBEAN'S
MOST EXCLUSIVE ROOMS & SUITES
SANDALS GRENADA
Italian Oceanview PH. 1 Br. SkyPool Butler Suite w/Balcony Tranquility Soaking Tub - PSKY
St. George, Grenada
SANDALS GRANDE ST LUCIAN
Beachfront Grande Rondoval Butler Suite with Private Pool Sanctuary - BP
Gros-Islet, Saint Lucia
SANDALS ROYAL BARBADOS
Royal Seaside Swim-up Club Level Ultra Suite w/ Patio Tranquility Soaking Tub - SUP
St. Lawrence Gap, Barbados
WHAT'S INCLUDED IN A SANDALS VACATION
READY FOR A MORE QUALITY INCLUSIVE VACATION
AT SANDALS' CARIBBEAN RESORTS
ALL INCLUSIVE
DINING EXPERIENCE
21 Different Cuisines of the World
UNLIMITED
PREMIUM LIQUORS
Up to 11 Bars per Resort
PADI CERTIFIED
SCUBA DIVING
The Caribbean Best Dive Sites
WAIT! THERE IS MORE
Robert Mondavi Twin Oaks® Wines
Entertainment Day & Night
Exclusive Butler Service* Club Sandals Concierge Service*
Unlimited Land & Water Sports
State-of-the-Art Fitness Centers
Complimentary Green Fees for Golf**
Exclusive Exchange Privileges Between Resorts
Free Non-Stop Round-Trip Airport Transfers
All Taxes, Tips and Gratuities
Airport Arrival Lounge in Jamaica and Saint Lucia
ARE YOU READY TO BOOK? OR NOT SURE WHICH SANDALS RESORT IS RIGHT FOR YOU?
or
SANDALS RESORTS
ARE ADULTS-ONLY, DESIGNED FOR COUPLES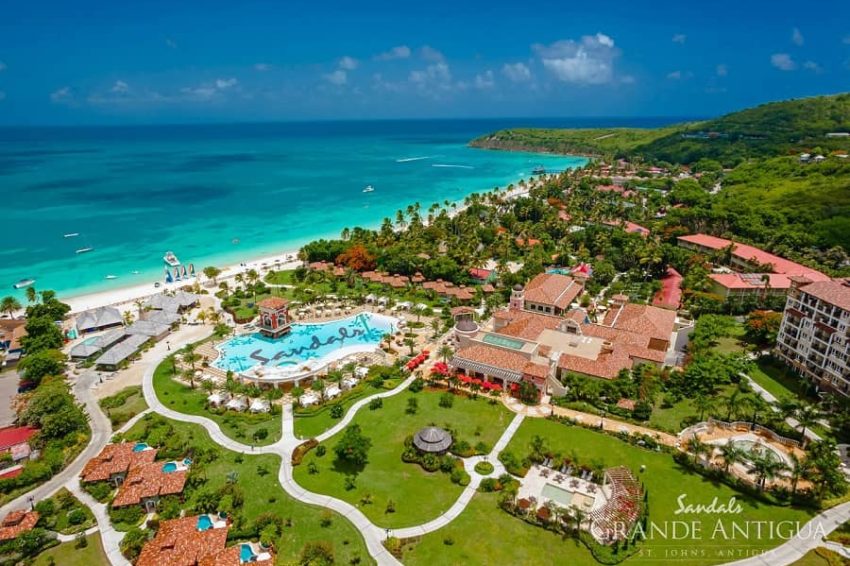 St John, Antigua
SANDALS GRANDE ANTIGUA
Voted the "World's Most Romantic Resort" year after year, Sandals Grande Antigua Resort & Spa beckons with two extraordinary Antigua all-inclusive vacations in one on the country's best and most famous beach, Dickenson Bay.
Two distinct resort experiences on Antigua's best beach
Great Exuma, Bahamas
SANDALS EMERALD BAY
Secluded within 500 tropical acres along a pristine, mile-long beach, civilized pleasure coexists with exotic adventures, from three impressive pools – including a half-acre, zero-entry pool with a dramatic fire pit in the middle.
Exquisite sophistication in the Bahamian out islands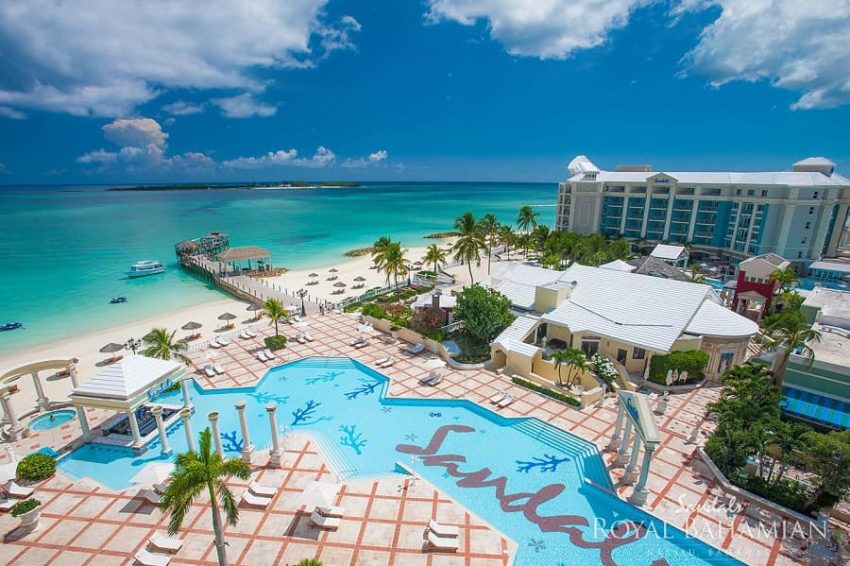 Nassau, Bahamas
SANDALS ROYAL BAHAMIAN
Enjoy all inclusive Bahamas vacations at this luxurious resort, featuring its own offshore island filled with every amenity, romantic adventures, and the region's finest seafood restaurant.
The architecture of Europe fused with the natural splendor of the Bahamas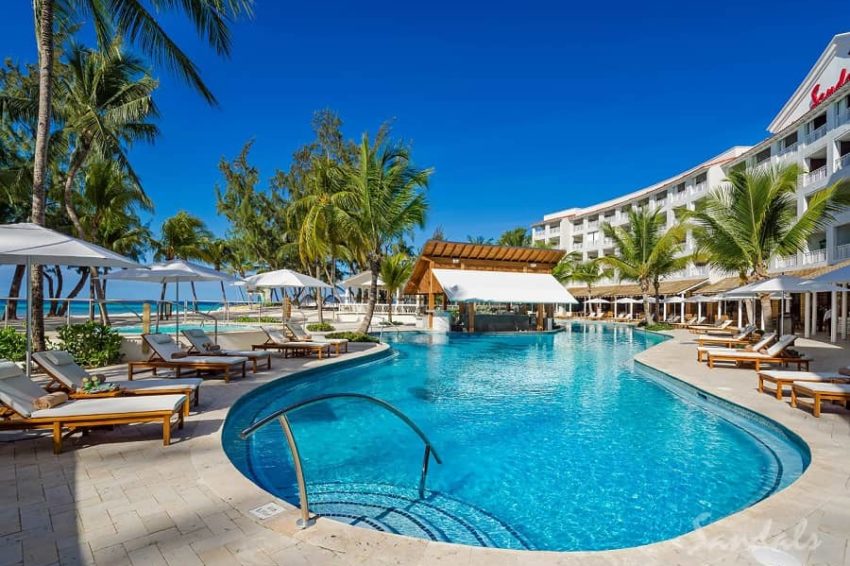 St. Lawrence Gap, Barbados
SANDALS BARBADOS
Sandals Barbados, an all-new retreat in the spirited St. Lawrence Gap area, offers undeniable luxury with inventive accommodations spanning three unique villages.
EXCHANGE PRIVILEGES BETWEEN BOTH SANDALS RESORTS IN BARBADOS (ADJACENT)
Where exclusive is always inclusive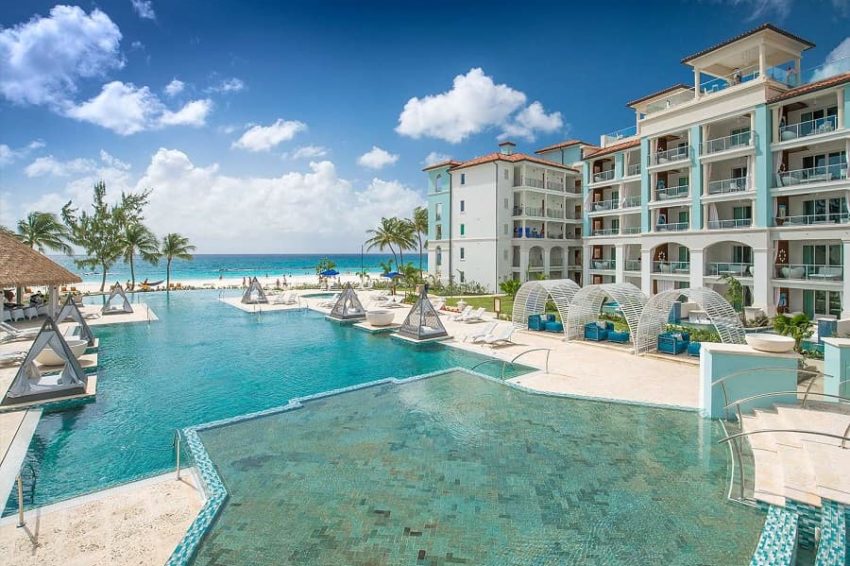 St. Lawrence Gap, Barbados
SANDALS ROYAL BARBADOS
This 222 all-suite resort will also feature Sandals signature accommodations including the magnificent Skypool Suites, Swim-up Suites, and Millionaire Suites
SANDALS FIRST ROOF TOP POOL, RESTAURANT, & BAR
SANDALS FIRST BOWLING ALLEY
SANDALS FIRST DONUTS SHOP
The most exclusive All-Inclusive ever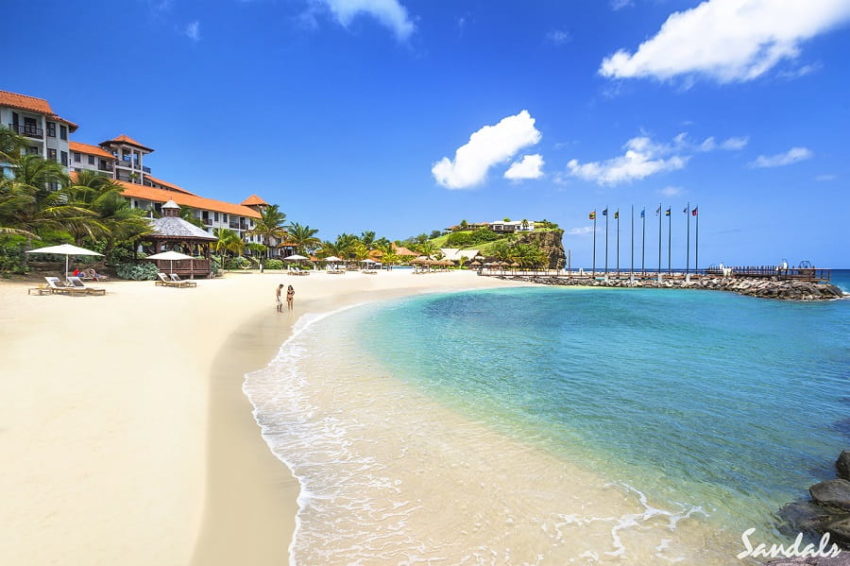 St. George, Grenada
SANDALS GRENADA
Defying every convention of traditional design, the new Sandals Grenada takes innovation beyond the realm of imagination to create an extraordinary resort
World's Most Innovative All-Inclusive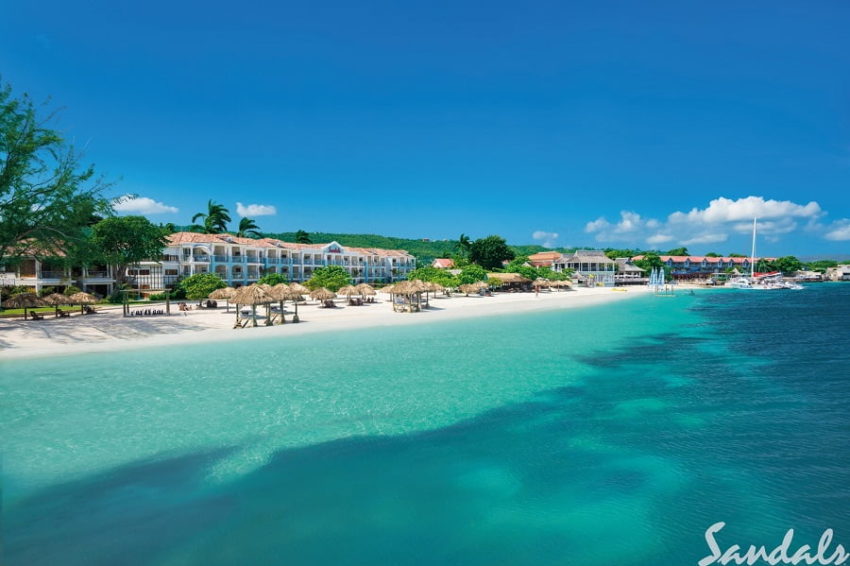 Montego Bay, Jamaica
SANDALS MONTEGO BAY
Sandals Montego Bay is located on the best private beach in Jamaica. This fine luxury all inclusive beach resort is the very first Sandals Resorts. Here at Sandals Montego Bay the service is incomparble
True Beachfront Resort Where the Party Never Stops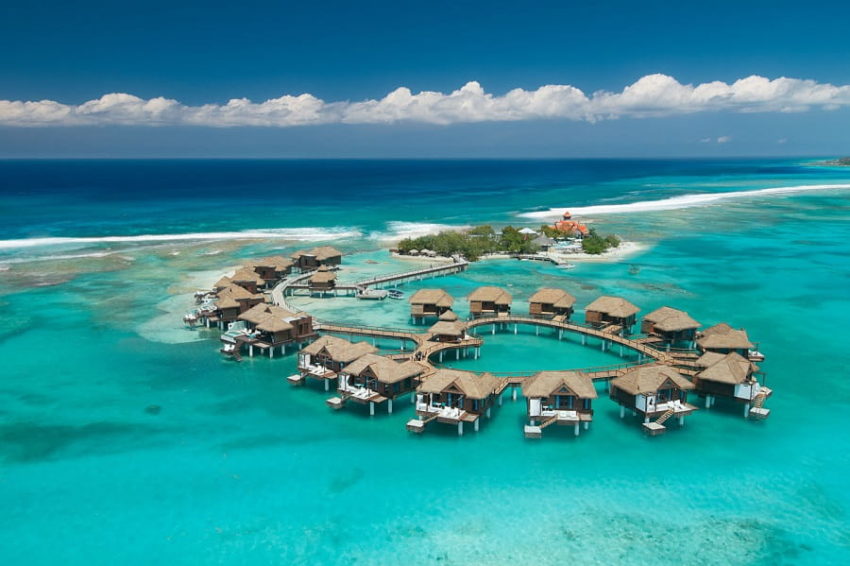 Montego Bay, Jamaica
SANDALS ROYAL CARIBBEAN
Sandals Royal Caribbean Resort & Private Island is exactly what the names stands for. It bring to royality to everyone guests! Just Minutes away on the resort's private offshore island
Britain to Bali-exotic adventures in Jamaica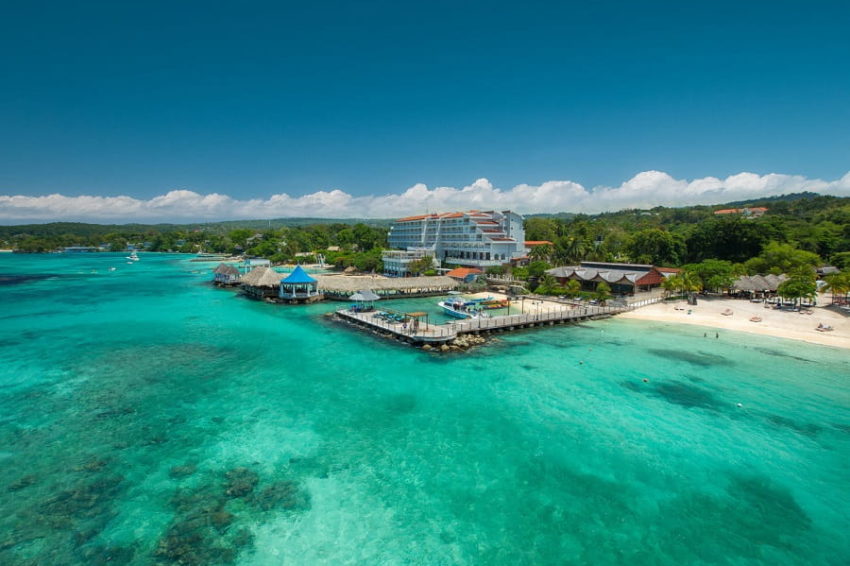 Ocho Rios, Jamaica
SANDALS OCHI
Sandals Ochi Beach Resort is Jamaica newest luxurious resort in the heart of the Caribbean. Sandals Ochi – superior to other Ocho Rios resorts – has three distinctive experiences.
The most happening place is happening now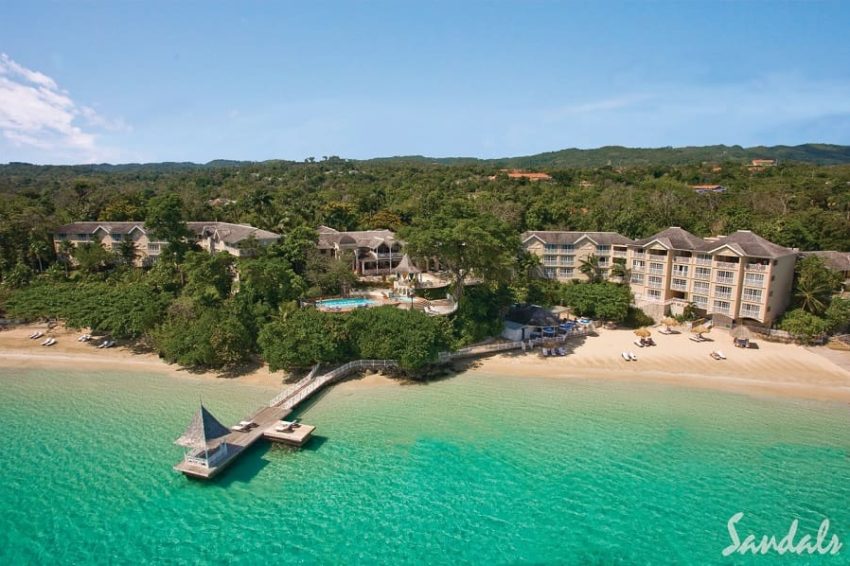 Ocho Rios, Jamaica
SANDALS ROYAL PLANTATION
Understated elegance and exquisitely private, this is Sandals Royal Plantation – an intimate all-butler resort of just 74 ocean view suites tucked into a magnificent coral bluff.
Sandals only all-butler boutique resort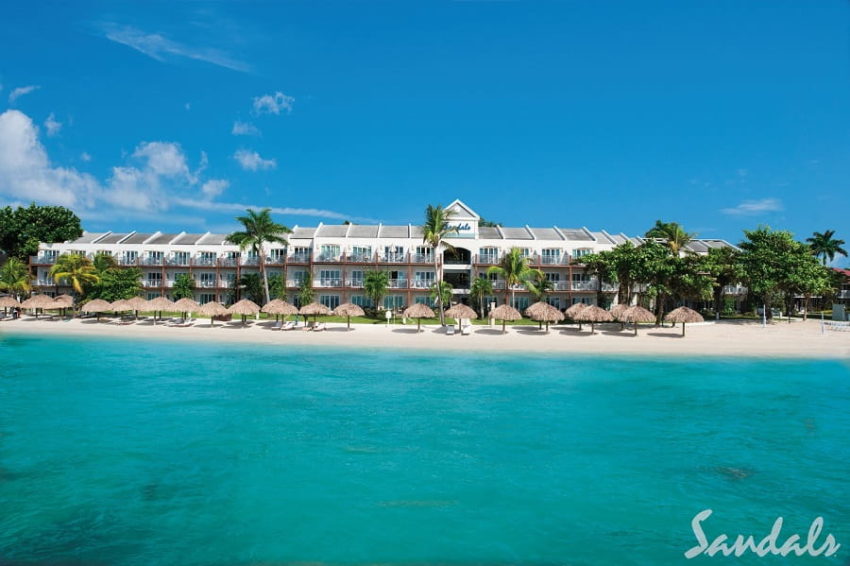 Negril, Jamaica
SANDALS NEGRIL
A sprawling resort situated on a 20-acre lushly wooded site with over 1,400 feet (426.72 meters) of white sand beach and sweeping views of the Caribbean Sea.
On the Longest and Best Stretch of Negril's 7-Mile Beach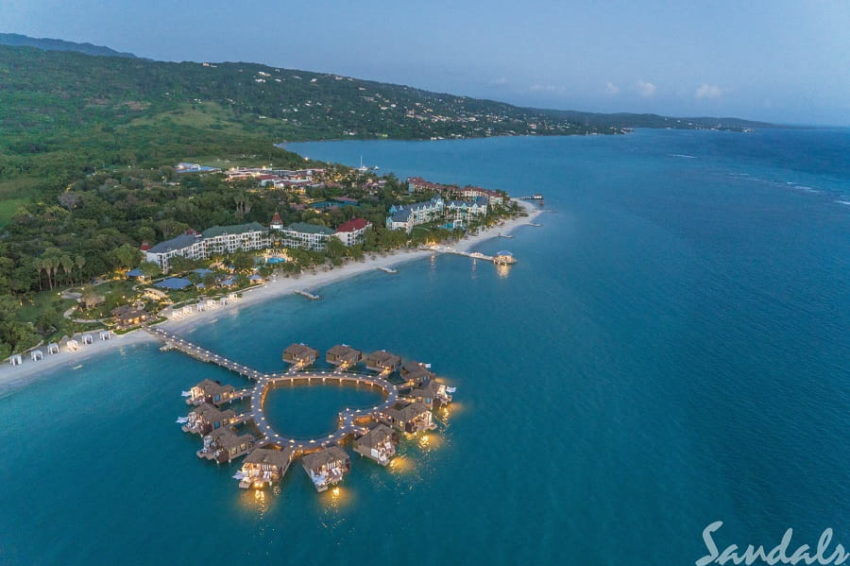 Ocho Rios, Jamaica
SANDALS OCHI
Sandals South Coast is a luxury Oceanfront Oasis located within a 500 nature reserve in Jamaica! Three distinctive European Villages-French, Italian and Dutch-are set along a two-mile stretch of beach
All beachfront rooms guaranteed!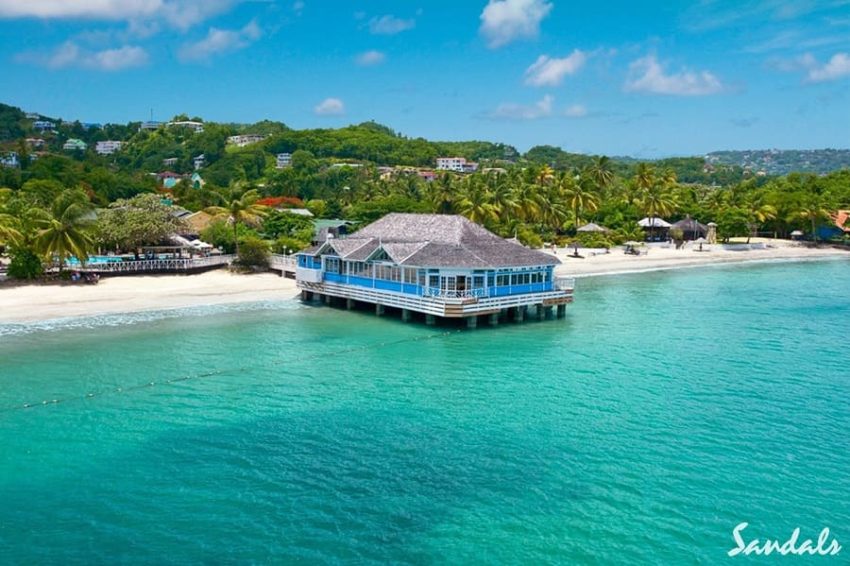 Castries, Saint Lucia
SANDALS HALCYON BEACH
If ever there was an all-inclusive resort that embraces the quintessential Caribbean, Sandals Halcyon Beach is surely it. This is a true Garden of Eden, a place where your senses are elevated by caressing sea breezes
A true garden of eden by a tranquil sea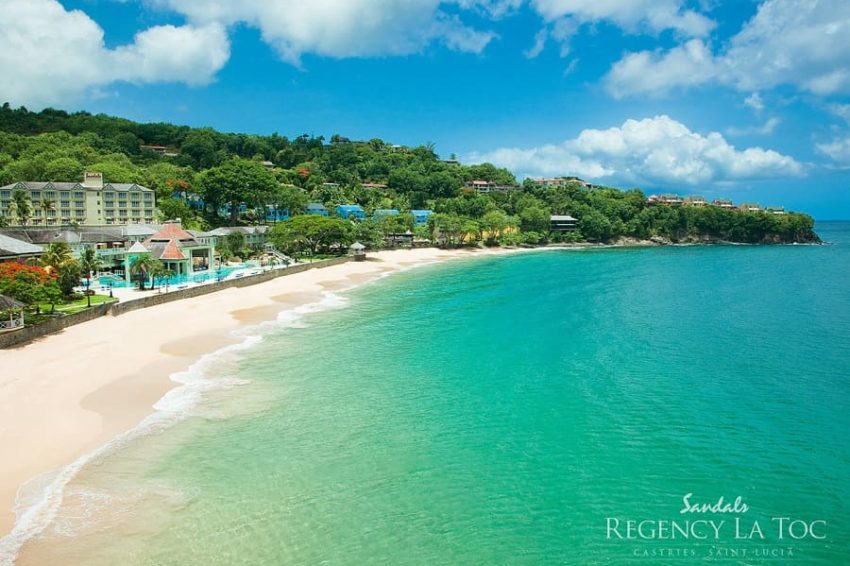 Castries, Saint Lucia
SANDALS REGENCY LA TOC
Saint Lucia's most glamorous resort, Sandals Regency La Toc is a magnificent 210-acre estate set on a half-mile, crescent-shaped beach, cradling exotic coral bluffs, lush hillsides and rolling fairways.
A glamorous golf resort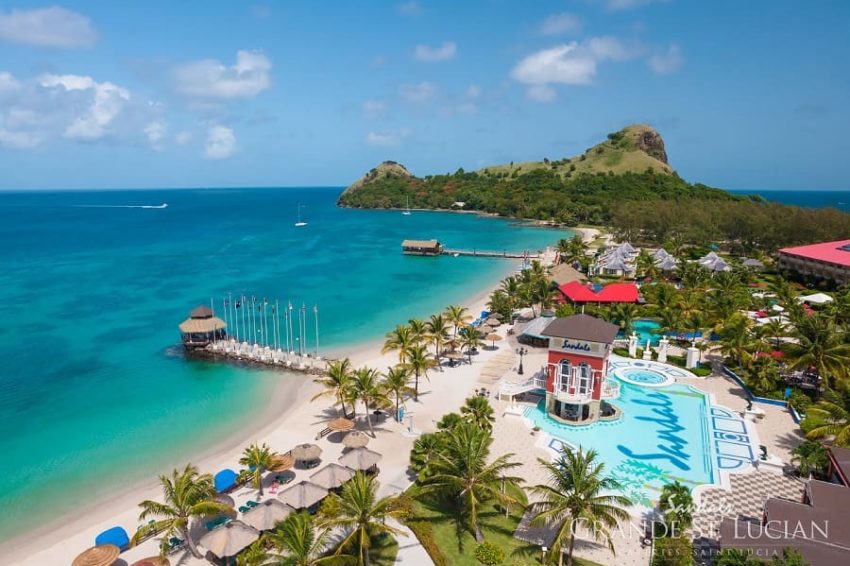 Gros Islet, Saint Lucia
SANDALS REGENCY LA TOC
Cradled to the west by Rodney Bay – boasting the calmest waters in all of Saint Lucia – and to the east by the majestic Atlantic Ocean, this magnificent resort showcases awe-inspiring panoramic views
Grand views on its own peninsula
STILL NOT SURE WHICH SANDALS RESORT IS RIGHT FOR YOU? TRY THE VACATION PLANNER OR CONTACT US!
or