Chan Chich Lodge
Belize's Chan Chich Lodge is a must for eco-travelers seeking great birding and luxurious accommodations. It's got a bunch of big cats too. The Lodge sits on the plaza of an ancient Maya city amidst 130,000 acres of private nature preserve in Northwestern Belize. Stunning situated in the plaza of an ancient Maya city and surrounded by pristine forest the lodge consists of 12 individual thatched-roof cabanas and one beautifully appointed 2-bedroom Villa. With a screened-in pool and Jacuzzi, fully stocked bar and excellent cuisine, your every desire will be fulfilled by the exceptional facilities and outstanding service we grant.
Come and retrace the footsteps of the Maya, wander our extensive trail system and discover the unforgettable flora, fauna and Maya history unique to this tropical paradise. With an unparalleled abundance of wildlife (and the best chance to see the exclusive jaguar in its natural habitat) Chan Chich is an extraordinary destination for naturalists, birders and for those seeking an authentic retreat to the jungle.
Chan Chich offers a host of activities, including hiking and exploring, horseback riding, canoeing, and trips to nearby Mayan ruins. Many visitors come expressly for birding. More than 350 species are in residence, including the lovely cotinga, ornate hawk-eagle and rose-throated tanager, as well as colorful toucans, parrots and hummingbirds. There's also a large population of rare and elusive jungle cats, including jaguars, pumas, ocelots, margays and jaguarundis. Many of these beautiful animals are seen on the Estate.
Chan Chich Lodge
12 Cabanas and 1 Villa
Restaurant:

Chan Chich Restaurant and Bar- Diners at our comfortable indoor/outdoor restaurant and bar will enjoy a variety of special Belizean dishes as well as an array of international flavors using the finest in local ingredients

Organic Farm
Nature Reserve and Wildlife
Canoeing
Private Airstrip
Rustic Luxurious Accommodations
At Chan Chich Lodge
rates starting at
$280.00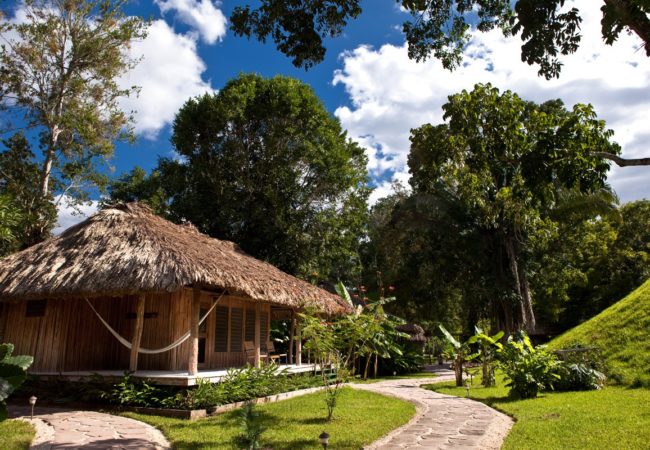 Garden Cottages
Wrap around veranda with hammock, chairs and futon for lounging. Native tropical landscape views
Occupancy: 2 person
Maximum Occupancy: 4 person
AMENITIES
Breakfast included
2 Queen beds with hand-crafted mosquito netting and natural eucalyptus fiber-cotton blended linens to enhance your sleep experience
Ceiling fans
En suite bathroom with shower and biodegradable, organic soaps, lotions and shampoos
Waffle cotton bathrobes
In-room safe
Twice-daily housekeeping service
110V electrical outlets (standard American outlets)
Umbrellas
Hair dryer on request
Coffee maker
Mini bar
Crystal water cooler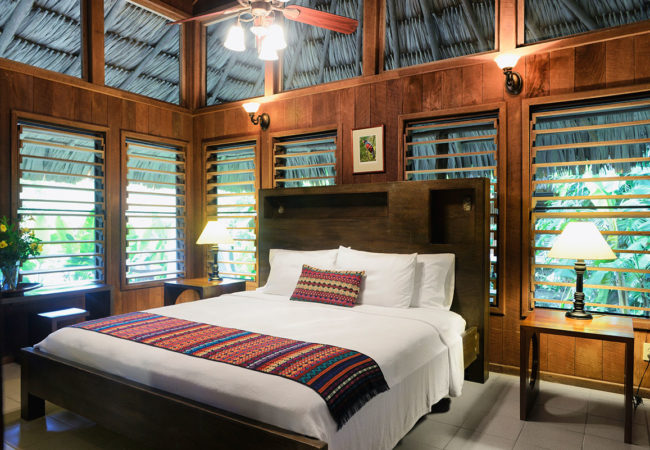 Deluxe Cottages
Wrap around veranda with hammock, chairs and futon for lounging.
Native tropical landscape views
Occupancy: 2 person
Maximum Occupancy: 4 person
AMENITIES
Breakfast included
2 queen size beds or 1 king sized bed (depending on cottage) with hand-crafted mosquito netting and natural eucalyptus fiber-cotton blended linens to enhance your sleep experience
Ceiling fans
Spacious en suite bathroom with lighted mirrors, double sinks, toilet and bidet, and double-headed rain shower with biodegradable, organic soaps, lotions and shampoos
Waffle cotton bathrobes
Walk-in closet with In-room safe
Twice-daily housekeeping service
Evening turn-down service
110V electrical outlets (standard American outlets)
Umbrellas
Hair dryer on request
Coffee maker
Mini bar
Crystal water cooler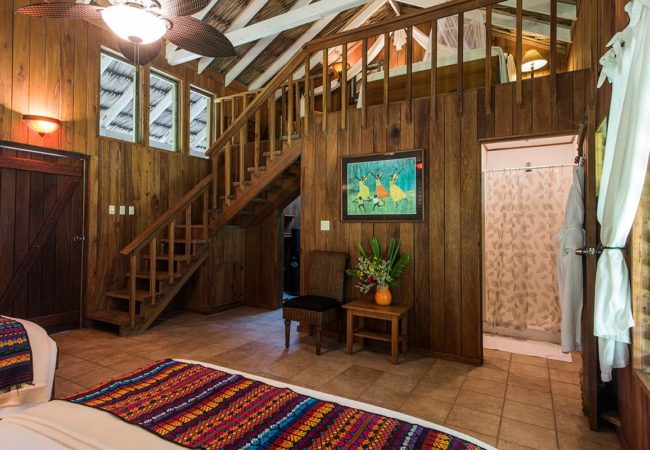 Pool Casitas
Native tropical landscape views
Occupancy: 2 person
Maximum Occupancy: 4 person
AMENITIES
Breakfast included
2 double and 1 queen size beds with hand-crafted mosquito netting and natural eucalyptus fiber-cotton blended linens to enhance your sleep experience. (occupancy 2-4 adults)
Double-height rooms with cozy loft sleeping area
Ceiling fans
En suite bathroom with shower and biodegradable, organic soaps, lotions and shampoos
Waffle cotton bathrobes
In-room safe
Twice-daily housekeeping service
Evening turn-down service
110V electrical outlets (standard American outlets)
Umbrellas
Hair dryer on request
Coffee maker
Mini bar
Crystal water cooler
Luxury Cottage
Wrap around veranda including a screened in hot tub, lounge ,chairs and outdoor dining space. Outdoor shower adjacent hot tub porch
Occupancy: 4 person
Maximum Occupancy: 6 person
AMENITIES
Breakfast included
1 King sized bed per bedroom, with option of an additional roll-away bed per room (occupancy Four adults or four adults and two children)
Natural eucalyptus fiber-cotton blended linens to enhance your sleep experience
Ceiling fans and A/C
Comfortably furnished living room and bar area
2 spacious bathrooms with lighted mirrors, double sinks, toilet and bidet, and bathtub with biodegradable, organic soaps, lotions and shampoos
Waffle cotton bathrobes
Closets with in-room safe and umbrellas
Twice-daily housekeeping service and turn-down service
110V electrical outlets (standard American outlets)
Hair dryer on request
Coffee maker and Mini bar
Crystal water cooler