Sandals Ochi Beach Resort
Sandals Ochi Beach Resort is Jamaica newest luxurious resort in the heart of the Caribbean.
The brand new Sandals Ochi – superior to other Ocho Rios resorts – has three distinctive experiences. It's a hip beach club with a chic vibe, day or night. A seaside garden paradise with babbling brooks and extraordinary ocean views.
An exclusive All-Butler Village with a plantation-style Great House perched atop a mountain, where cool drinks are served with warm hospitality. A true Garden of Eden encompassing over 100 acres
Sandals Ochi Beach Resort
525 villas rooms and suites
The All-Butler Village & Great House
The Caribbean Riviera
Butler service in select categories
Surrounded by tropical gardens & ocean views
Ochi Beach Club
Golf at Sandals Golf & Country Club is included
Unlimited fine dining at 16 restaurants
11 bars including 3 swim-up pool bars
Caribbean's first Speakeasy
Unlimited premium spirits
Unlimited Mondavi® wines
105 pools and 22 whirpools
Unlimited land and water sports
Unlimited scuba diving
Separate scuba pool
Red Lane® Spa (services extra)
Free non-stop round trip airport transfers
Free Wi-Fi in all rooms and public areas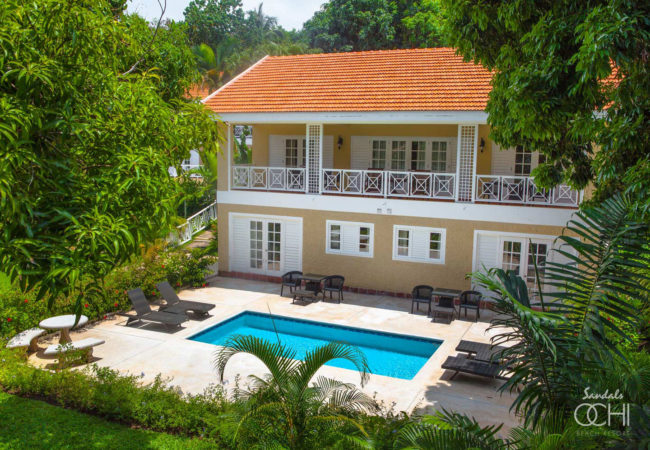 Butler Villa with 4 One-Bedroom Suites and Private Pool - 4V1
These delightful standalone private villas are perfect for those traveling in small groups. Surrounded by lush mango groves and wild orchids, each building is equipped with 4 one-bedroom suites that are generously proportioned and comprise an expansive bedroom and living area equipped with beautiful hardwood furniture
BOOK ONLINE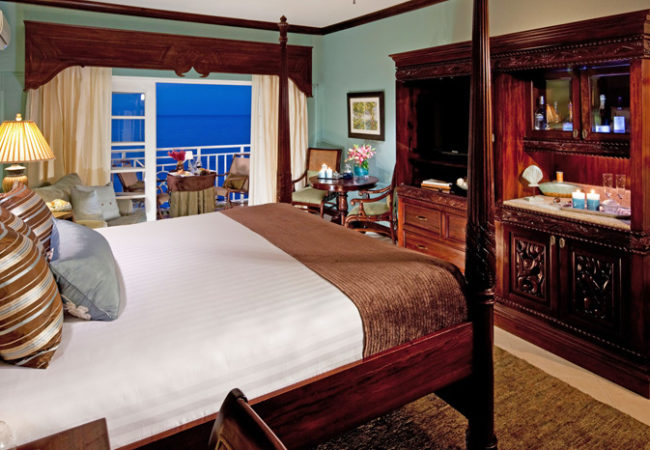 Riviera Honeymoon Beachfront Penthouse Club Level - PO
Sitting at one of most privileged points in the entire resort, this penthouse features a wonderfully sized bedroom and living area boasting a mahogany four-poster bed, matching furniture, flat-screen TV, bar area and a well-appointed en-suite marble bathroom. Completing the experience is a large private balcony
BOOK ONLINE
Great House Luxury - ML
A stone's throw away from some of the resort's best restaurants, bars and amenities, these rooms are presented in wonderfully calm decor and are complemented with mahogany furniture and exquisite soft furnishings. Complete with its own personal balcony, each Great House Luxury Room
BOOK ONLINE
The Golf Club at Sandals Ochi Beach Resort
Give yourself the perfect golf vacation, with rolling fairways lined by sweeping views of the sea and mountains. This magnificent 18-hole course rises 700 feet above sea level in the lush hills of Ocho Rios
Complimentary transfers always included
Golf Club at Sandals Ochi Beach Resort
The Most Happening Place
You're a member at the Ochi Beach Club, the chicest beach clyb in Ocho Rios. It's the place to see and seen, with a cool vibe, day or night. The pool has a bar you can swim up to. Firepits on the beach and an over-the-water premenade light up the night. And a scenic Overlook Treehouse offers an original vibe.
Where the Party never stops
Sandals
OCHI BEACH RESORT
save up to
65%
and get
ONE FREE NIGHT
plus much more savings
CHECK AVAILABILITY